Features:
Century® MasterFit Pro® Motors
4 speeds
Reversible
All purpose capacitor included
Versatile mounting options
Open dripproof
Century® 4-in-1® Motors
One simple connection
1 motor replaces 4 different horsepower ratings
7.5mfd capacitor required
Versatile mounting options
Fully enclosed
Benefits:
What if you could replace 32 motors with 6?
4 MasterFit Pro® motors replace 16 indoor blower motors. Each Century® MasterFit Pro motor includes a multi-rated capacitor in every box.
2 4-in-1® motors replace 16 PSC outdoor fan motors. Each Century® 4-in-1 motor is designed to replace 4 horsepower ratings.
Built to be Your Truck Stock Motor
Simplify Your Truck™ with the universal replacement motors that simplify your life!
Simplifies Truck Stock – with just 6 Century® PSC motors you could replace up to 32 commonly rated PSC HVAC motors
Simplifies Installation – wiring diagrams on the wiring harness, simple reversing plug and versatile mounting configurations including belly band, extended thru-bolts and OEM compatible shell holes
Simplifies Your Schedule – with the right motor for the job on the truck, you can complete the job faster without driving to get a part, and you can complete after hours calls
What is the value of having the part you need on the truck?
Reduce unnecessary trips to the distributor and long drive times to get a replacement
Eliminate temporary motor substitutions
Get the job done the same day with the right part
Reduce truck stocking costs
Get more jobs done in the same day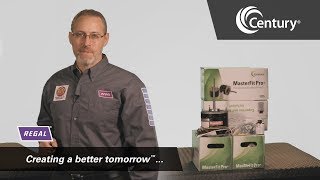 Simplify Your Truck™ with Century® MasterFit Pro® Motors
Century® MasterFit Pro® motors simplify your truck stock, your installation and your schedule.