ModSort® Divert & Transfer Module
What if one integrated module could easily divert, transfer and sort multiple package types?
Regal knows this is an industry challenge and we have a solution!
Features & Benefits
Efficiently handle polybags – less damage, no gaps, no catching

Unlimited motion control, Energy Efficiency / Runs on Demand Technology

Quiet, safe, low maintenance, 24 volt

Local team to help you integrate into your package handling process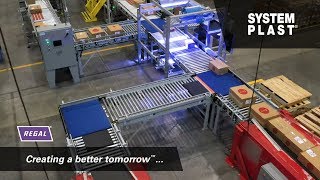 Dish Network Gains Efficiency with System Plast® Modsort® Transfer and Divert Station.
Dish Network installs new System Plast Modsort Divert and Transfer Module with help from Advanced Equipment Company to streamline the operation, reduce manual hand scans and improve sortation accuracy. Overall, efficiency has improved by up to 25%.
ModSort Station Solves Transfer and Divert Problems
The ModSort station is a low-noise, low voltage modular transfer/diverter station. It can easily integrate with new or existing systems, eliminating the need for a lift, pneumatics, or Z-direction position feedback devices.
ModSort® Module Product Range
A modular transfer/divert station based on proven technologies, offered in a wide range of sizes to fit your application.
ModSort® Transfer Module Size

Size
Length, in.
Width, in.
Available Take Away Widths, in.
Effective Zone Length, in
1
30
16
16, 22
24
2
30
22
22
24
3
36
16
16, 22, 28
30
4
36
22
22, 28
30
5
36
28
28
30
6
42
22
22, 28, 34
34
7
42
28
28, 34
34
8
42
34
34
34