ModSort® Divert & Transfer Module
What if one integrated module could easily divert, transfer and sort multiple package types?
Regal knows this is an industry challenge and we have a solution!
Features & Benefits:
Efficiently handle polybags – less damage, no gaps, no catching

Unlimited motion control, Energy Efficiency / Runs on Demand Technology

Quiet, safe, low maintenance, 24 volt

Local team to help you integrate into your package handling process
For more information, contact ModSort engineering –
modsort.engineering@regalbeloit.com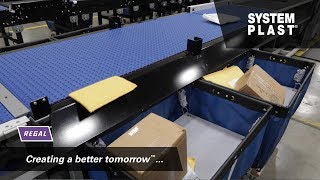 System Plast ModSort Station Solves Transfer and Diversion Problems
ModSort® station utilizes System Plast® 2253RT Roller Top Belt featuring a 1-inch on-center sphere array. Motorized Drive Rollers and controls allow flexibility in wiring, efficient, quiet and low-maintenance operation, and the ability to move everything from tiny poly bags to boxes.
ModSort Station Solves Transfer and Divert Problems
The ModSort station is a low-noise, low voltage modular transfer/diverter station. It can easily integrate with new or existing systems, eliminating the need for a lift, pneumatics, or Z-direction position feedback devices.
ModSort® MODULE PRODUCT RANGE
A modular transfer/divert station based on proven technologies, offered in a wide range of sizes to fit your application.
ModSort® Transfer Module Size
| | | | | |
| --- | --- | --- | --- | --- |
| Size | Length, in. | Width, in. | Available Take Away Widths, in. | Effective Zone Length, in |
| 1 | 30 | 16 | 16, 22 | 24 |
| 2 | 30 | 22 | 22 | 24 |
| 3 | 36 | 16 | 16, 22, 28 | 30 |
| 4 | 36 | 22 | 22, 28 | 30 |
| 5 | 36 | 28 | 28 | 30 |
| 6 | 42 | 22 | 22, 28, 34 | 34 |
| 7 | 42 | 28 | 28, 34 | 34 |
| 8 | 42 | 34 | 34 | 34 |