UlteMAX® Motor
Features:
Axial Permanent Magnet Motor
Configurable sizes from 3-15 HP (2,2 - 11 kW)
Speed 300-4200 RPM
Integrated VFD with built-in intelligence
At least 1/2 the weight of traditional induction motor
Compact profile (4.5" or 11.43 cm thick)
Orientation - horizontal or vertical
High power density
Wire to air efficiency well over 60%
Benefits:
Big Footprint reduction of at least 50%*
Reduction in overall system package and weight*
Reduction in inventory space and SKUs*
Pre-programmed and tested controls
Customizable
High efficiency over wide speed range
Related Documents
UlteMAX® motor is the new game-changing addition to the Marathon® Motors family.
Its hidden axial design and custom control offer an overall footprint reduction of at least 50%* while maximizing output over a wide range of speed for air handling and ventilation applications.
* When compared to a traditional radial induction motor of 125lbs or more and 18 inches in length.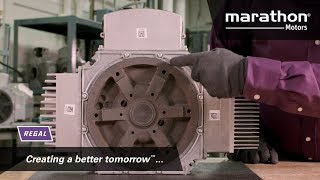 How to Mount an Impeller to an UlteMAX® motor
Mounting the UlteMAX Motor's "shaft-less" design to your wheel or impeller.