The Evergreen® CM motor is a drop-in replacement for OEM constant torque ECM indoor blower motors such as Genteq X13® and Endura® Pro motors or equivalent competitor models with 24 VAC speed taps.
Features
Pre-programmed for truck stock; ready to use out of the box
No complex wiring or configuration
Automatically determines motor direction using Regal's Rotation Sensing Technology™
Compatible with OEM harness
Benefits
Two year warranty*
Maintains system efficiency and performance
Soft start and off ramp for quiet operation
*This warranty shall expire twenty-four (24) months from first use of the Product or thirty (30) months from date of shipment of the Product, whichever occurs first. Except as stated here, Regal standard limited warranty applies. See Terms and Conditions of Sale.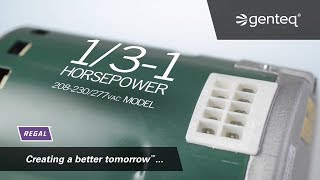 Genteq Evergreen CM Motors
The Genteq Evergreen CM motor is a drop-in replacement for constant torque ECM such as Genteq X13® and Endura® Pro motors.
Genteq Evergreen Intro to ECM
The Evergreen® line of motors are high efficiency ECM retrofit motors built for HVAC applications including the replacement of PSC motors and constant torque ECM motors.
Click here to get an exact Evergreen CM match to your OEM Genteq® ECM motor.
Specifications
GENTEQ EVERGREEN CM MOTORS
STOCK
HP
VOLTS
FLA
RPM
SPEEDS
SHAFT
DIM A
DIM B


6703
1/3
208-230/277
2.8
1075
5/PWM
.5" X 4"(3.5" SF)
9.17"
5.25"
6705
1/2
208-230/277
4.1
1075
5/PWM
.5" X 4"(3.5" SF)
9.67"
5.75"
6707
3/4
208-230/277
6.0
1075
5/PWM
.5" X 4"(3.5" SF)
10.42"
6.5"
6710
1
208-230/277
7.6
1075
5/PWM
.5" X 4"(3.5" SF)
11.17"
7.25"
6405**
1/2
460
2.1
1075
5/PWM
.5" X 4"(3.5" SF)
10.53"
6.61"
6407**
3/4
460
3.1
1075
5/PWM
.5" X 4"(3.5" SF)
11.28"
7.36"
6410**
1
460
4.0
1075
5/PWM
.5" X 4"(3.5" SF)
12.03"
8.11"
**Item to be discontinued when stock is depleted.
Applications
The Evergreen CM motor is designed for use in the following types of HVAC systems:
Residential and light commercial indoor furnaces
Air handler and package units
Commercial building series VAV boxes
Reliability
Encapsulated electronics
Electronic overload protection
4kV surge protection
UL and CSA recognized component
Motor mounts for Evergreen® motors
All Evergreen® motors are NEMA® 48-frame (5.6" diameter). If the motor you're replacing has the same frame dimensions and uses a belly band mount, an Evergreen motor will fit in the existing mount.
A new motor mount may be required if the old mount is connected to the motor around the bearing (resilient mount) or welded or bolted directly to the motor shell.
To determine the bolt hole diameter needed, measure the diameter of the air inlet. The bolt hole dimension must be larger than this dimension.
Genteq® Mounting Kits
Catalog #GA556: 9-10" bolt circle torsion flex, NEMA® 48 Frame (5,6" dia.) 3 legs, Not Recommended for 3/4 HP or 1HP motors
Catalog #5K002: OEM mount with 4 legs
Catalog #5K003: 10" bolt circle
Catalog #5K004: 11" bolt circle, NEMA® 48 Frame (5,6" dia.) 3 legs
Catalog #5K005: 13" bolt circle, NEMA® 48 Frame (5,6" dia.) 4 legs
Dealer Toolbelt App
Download the Dealer Toolbelt app and gain access to technical literature, training videos, and ECM cross reference.
The app is available on both Apple Store® and Google Play™.
HVAC motor replacement options by type and application
The following are believed to be the trademarks and/or trade names of their respective owners and are not owned or controlled by Regal Beloit Corporation.
UL: UL LLC; CSA: CSA Group; NEMA: National Electrical Manufactures Association;
Apple Store: Apple Inc.; Google Play: Google LLC.