MasterFit Pro® Motors
Features:
All Purpose, Multi-Rating Capacitor in Every Box
Class B Insulation for all Blower Motors
Class F Insulation for all Condenser Fan Motors
Energy Efficient
Ball and Sleeve Bearing
Permanent Split Capacitor
Mounts by Belly Band, Thru Bolts or Shell Holes
Benefits:
MasterFit Pro® motors have enhanced features and include an all-purpose, multi-rating capacitor packed in every box. MasterFit™ APC capacitors cover 5, 7.5, 10, 12.5, and 15 microfarads (mfd) to make this the only capacitor needed for a busy contractor's job.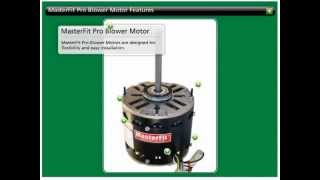 Century® MasterFit Pro® Motors
This video describes the features and benefits of MasterFit Pro condenser fan and blower motors and explains the MasterFit Pro advantage to your contractor customers.
Built to be Your Truck Stock Motor
MasterFit Pro® motors replace hundreds of the most popular 48-frame condenser fan and indoor blower motors currently installed.
With versatile mounting options and multi-mounting capability, MasterFit Pro® motors replace multiple styles of OEM motors.
OEM mounting holes, with screws supplied
Adjustable extended thru-bolts
Belly band
What is the Value of Having the Part You Need on the Truck?
Reduce unnecessary trips to the distributor and long drive times to get a replacement
Eliminate temporary motor substitutions
Get the job done the same day with the right part
Reduce truck stocking costs
Get more jobs done in the same day
Built to Last
Condenser fan motors rated 70°C
Durable ball bearings or dependable all-angle sleeve bearings
Water resistant rubber grommet at lead opening on condenser fan motors
Water resistant reversing plugs on all MasterFit Pro® motors