4-in-1® Motors
Features:
UL/CSA approved Class B or Class F insulation
Energy-efficient PSC design
Double-sealed ball bearings or all-angle sleeve bearings
Lead length 36" to 48"
Continuous duty, air-over
60°C, 70°C, or 80°C maximum ambient temperature
Reversing connector or water-resistant reversing plug
Mounts by belly band, thru-bolts or OEM mounting holes
Fully enclosed
Benefits:
ONE SIMPLE CONNECTION: 4-in-1® motors replace hundreds of the most popular residential and commercial condenser fan motors. Each motor is designed to replace motors in each of four different horsepower ratings with just one simple line connection. No need to change capacitors or select different speed taps.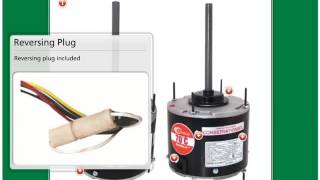 Century® 4-in-1® Motors
The new Century® expanded line of 4-in-1® motors replace hundreds of the most popular 1/2 - 1/15 HP, 208-230 and 460-volt, 825 or 1075 rpm residential and commercial condenser fan motors.
Simplify Your Truck™ with Century® Motors
Century® motors simplify your truck stock, your installation and your schedule. Replace 32 common HVAC indoor blower motor and outdoor fan motor ratings with just 6 motors on your truck.
Built to be Your Truck Stock Motor
The line of 4-in-1® motors replaces hundreds of the most popular 48-frame condenser fan motors currently installed - with "one simple connection"
Versatile mounting options; multi-mounting capability; replaces multiple styles of OEM motors; all angle mount

OEM mounting holes; with screws supplied
Adjustable extended thru-bolts
Belly band

Simple three-wire connection (L1, L2, & Capacitor) similar to original motor
One motor replaces motors in each of 4 horsepower ratings with the same electrical connection (eliminates having to select various speeds or change capacitor sizes)
What is the Value of having the Part You Need on the Truck?
Reduce unnecessary trips to the distributor and long drive times to get a replacement
Eliminate temporary motor substitutions
Get the job done the same day with the right part
Reduce truck stocking costs
Get more jobs done in the same day
Built to Last
Available in 70°C design and select models available in 80°C design
Durable ball bearings or dependable all-angle sleeve bearings
Water resistant rubber grommet at lead opening
Water resistant reversing plug on 70°C and 80°C motors